Register HERE (free event, but registration requested)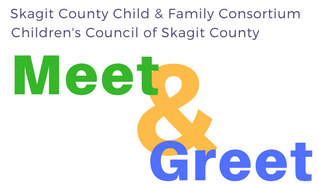 Calling all professionals who work with children & families in Skagit County!Please join us for our winter Meet & Greet.  This is an opportunity to meet other people from family-serving organizations throughout Skagit County.  

The Meet & Greet is a structured event that will allow each participant to share a brief overview (2-3 minutes) of your organization and programs.  Sharing will happen in small groups that will rotate several times throughout the event to maximize sharing.  There will be unstructured time at the end to follow up or meet others.
Please bring handouts and business cards to share.
There is no cost for this event, but please register so we can plan for the appropriate number of participants. Feel free to share with others!
March 27th 9:00 – 11:00am
Mount Vernon Seventh-Day Adventist Church
4520 E College Way
Mount Vernon, WA 98273