Safe Kids Washington has partnered with the Traumatic Brain Injury Council and the University of Oregon to bring a series of virtual safety education learning events for kids of all ages. These virtual events are engaging and fast moving with safety information, activities and entertainment, and prizes! We have sessions for all ages and parts for the parents in each session as well.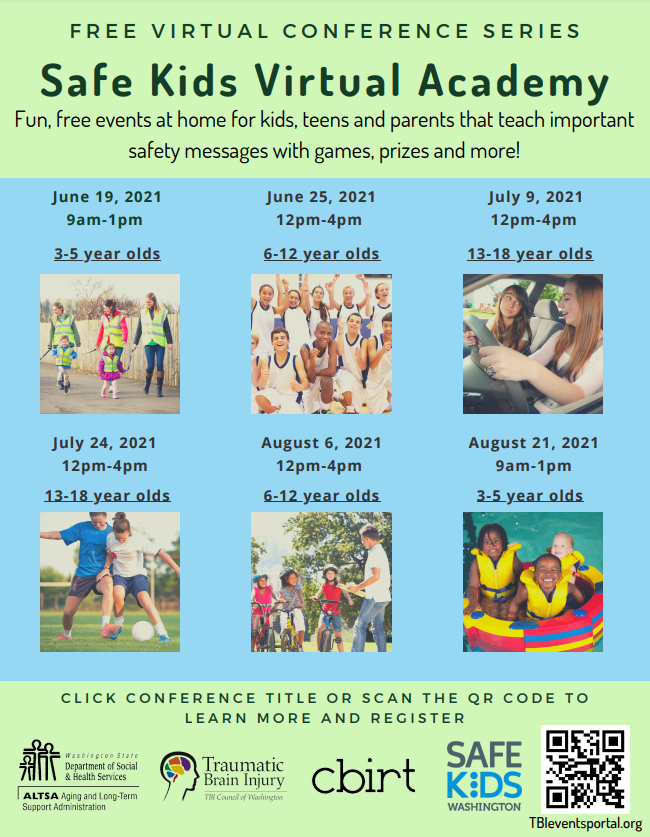 These virtual events are perfect for daycares and day camps as an options for engagement. They are great to give your kids something to do so they are not bored sitting at home once school is out or just something fun and educational while kids are at home for the summer or still engaged in virtual learning. You can even share this opportunity with friends and family in other states and participate together.
These sessions are free, and did I mention prizes. Participants (Washington residents only) will be eligible to get free safety equipment through local Safe Kids coalitions and other community partners, such as bicycle helmets or life jackets, or coupons for discounts on ATV helmets or car booster seats and each participant gets a chance for a drawing at the end of the session for prizes like Amazon gift cards, Xbox gift cards, an apple watch, and more. The more activities you complete during the session the more chances you get to win the larger drawing prizes. You can register for each individual session by clicking on the age and session date you want to sign up for in the attached flyer or use your smartphone camera to scan the QR code to be taken to the general registration page where you will find the Safe Kids Virtual Academy sessions as well as other free virtual conferences for TBI.