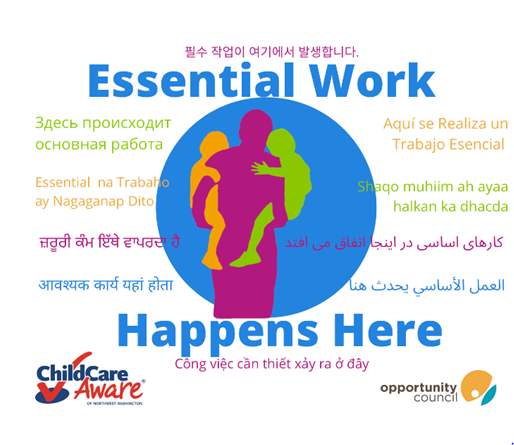 Online Training Support

All of our training will continue to take place as live, online sessions via Zoom video conferencing. If you would like assistance registering for classes or have questions about Zoom, please contact Program Assistant Sue Duncan at sue_duncan@oppco.org or (360) 603-6179 from 8 am – 3 pm Monday – Friday

Online Family Engagement: Rethinking Family Fun Nights 
March 6, 2021 
10:00 a.m. – 12:00 p.m.
Trainer: Sue Duncan
$10.00
STARS: 2

Strategize family engagement with online tools to support either virtual or live events. Brainstorm an event and walk through how Trello, YouTube, and Google Sites can support you in the planning and execution of it. Let this workshop introduce you to three types of technology to support your re-imagining of what family engagement can look like. Leave with a general flow chart of your event from start to finish, ready for you to build upon and utilize, as well as resources for further training.
Anti-Bias Series with Jaime Thompson & Kat Kayser

Join Jaime and Kat to learn about internal bias and how to create inclusive learning environments for all children and families in your care. Register for one or all of the trainings in the Anti-Bias Series for early childhood educators.

Anti-Bias Series: Reading Your Way to a Culturally Responsive Classroom 
March 9, 2021 
6:00 p.m. – 7:30 p.m. 
Kat Kayser & Jaime Thompson
$10.00
STARS: 2

Anti-Bias Series: The Role of the Leader (New Date)
April 13, 2021 
6:00 p.m. – 7:30 p.m.
Kat Kayser & Jaime Thompson
$10.00
STARS: 2
Introduction to Best Practices: Interactions 
March 29, 2021 
6:00 p.m. – 8:00 p.m
Trainer: Julie Wasilewski
$10.00
STARS: 2

Research demonstrates that warm and responsive relationships with adults are critical to social-emotional learning in young children. This training is one of six modules in the Best Practices Series that supports Early Achievers by emphasizing high-quality adult practices measured by the Environment Rating Scale 3 (ERS-3).