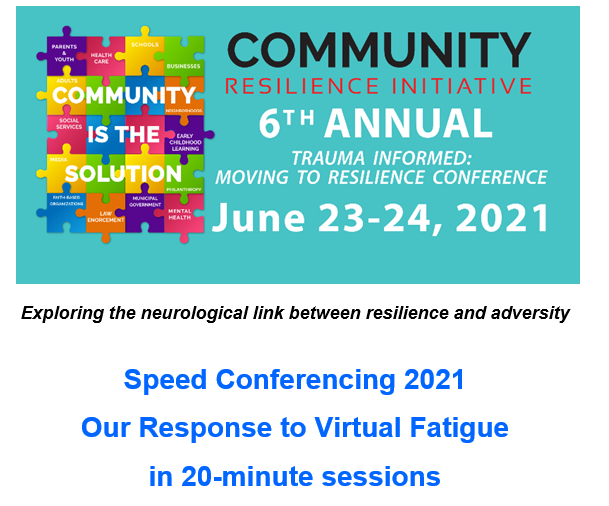 CRI was founded with the goal of creating a community that speaks a common language around ACEs, brain development, and resilience. A common language will help us understand the negative impact of trauma or adversity and buffer against it by strengthening our resilience toolbox. That same goal of common language continues to hold our attention as we strive to learn how our bodies respond to stressors, and to consciously incorporate and practice the language and acts of resilience in our daily lives.

CRI's 6th Annual Trauma-Informed: Moving to Resilience conference will look different this year! CRI recognizes the extreme "zoom fatigue" the pandemic has created. We too are "zoomed out" and just want to be back to "normal" where we can build on relationships and connections together, sharing the same space! The option of skipping a year crossed our minds, but our collective work is too important to let a pandemic and fatigue deter us.

So, in an effort to circumvent yet another numbing virtual meeting, we have decided to be brave and fearless and offer two half-days of "Speed Conferencing" 2021! Based on the concept of Speed Dating, we will endeavor to bring you state-of-the-art information, but in the condensed, powerful format of twenty-minute sessions that are easy to digest and remember. We will feature 5 adverse categories—childhood, community, culture, circuitry and catastrophic—and 5 resilience themes to parallel the 5 adverse categories.
While attention to the original ACE Study generated a substantial social movement, it is time to expand our focus on the neuroscience framework underlying the study. By expanding the context of how trauma may occur, we will be able to better address the foundational biological processes that initiate adverse outcomes in the multiple domains in which we live our lives. At the heart of all adversities is the neurological threat response. It is the important link to understanding the trauma caused by events and circumstances. Comprehending the threat response allows us to recognize the variations in the human experience that can lead to trauma.

Join us as we share the science of trauma in multiple domains along with compelling resilience strategies that buffer the effects of those traumas across the life span. Because adversity overlaps and accumulates, we also hope to identify further strategies toward resilience and social-cultural change via Q&A and discussion.

*CEU credits pending approval. Scholarships for reduced tuition available. Please contact robin@criresilient.org for more information.
---
Registration open for CRI Trauma-Informed Resilience Based trainings! 

Course 3: Trauma-Practitioners – March 23, 25, 30 and April 1
Workshop: Blueprint For Framing Your Community Initiative – April 6 and 8
All dates are 3 hours long, 9:00am – 12:00pm PDT 
*Course 1 is a pre-requisite for Course 3 and Workshop
CEU's available for Course 3 and Workshop
CRI Resilience Products are a perfect companion for training, professional, and personal use!