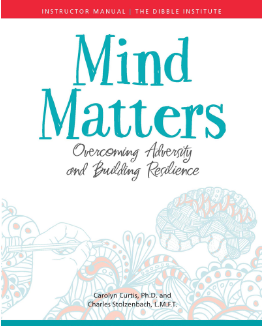 Overcoming Adversity and Building Resilience
People experiencing trauma and toxic stress often have difficulty regulating their emotional responses when facing challenges in school, life, and relationships. As participants learn the skills and strategies in Mind Matters, they can begin to say, "I am not a victim of what happened to me."
Mind Matters'  lessons teach people aged 12 and up to respond to negative experiences with innovative methods based on  current research and neuroscience. These skills give individuals a way to take charge of their emotions and improve their states of mind. Participants learn to address their physical, relational, and mental health needs.
Program Length: 12 Lessons (1 hour each) or 21 Sessions (15-20 minutes each)
Age Group: 12+
Authors: Carolyn Curtis, Ph.D. & Charles Stolzenbach, L.M.F.T.
Visit The Dibble Institute to learn more.