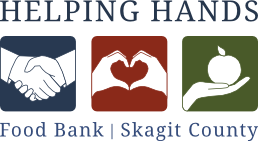 Helping Hands Food Bank has been serving residents of Skagit County since its creation in 2000. Last year they distributed 2.2 million pounds of food to over 14,000 individuals. Helping Hands Food Bank is currently seeking volunteers for the following positions:
• Warehouse Assistant
• Loading Volunteer
• Line Volunteer
• Volunteer Driver
• Volunteer Interpreters
For questions about any of the opportunities listed above please contact Erik at erik@helpinghandsfoodbank.org to view and respond to these needs directly click HERE.