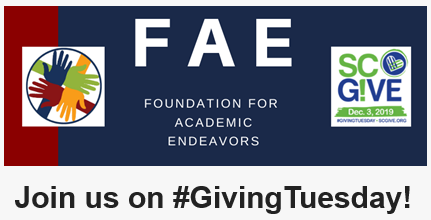 WHAT IS GIVING TUESDAY?
GivingTuesday is a global generosity movement unleashing the power of people and organizations to transform their communities and the world on December 3, 2019 and every day.
It was created in 2012 as a simple idea: a day that encourages people to do good. Over the past seven years, this idea has grown into a global movement that inspires hundreds of millions of people to give, collaborate, and celebrate generosity.
OUR 2019 #GivingTuesday Partner
This year we are partnering with the Stanwood-Camano Area Foundation. On December 3, 2019 we will publish the link on our website and our Facebook page and will send you a link in an email where you can go to donate to the Foundation for Academic Endeavors.  GivingTuesday means your donations will be matched and we will be able to help even more low-income children in the Skagit Valley!
Mark your calendar today for DECEMBER 3rd!
Like and Share the 2019 #GivingTuesday campaign on the campaign Facebook page!
If you don't want to wait for #GivingTuesday, we've added out Donate Now button below!