We are very pleased to invite you to a Free Math Anywhere training series via Zoom beginning on June 4th!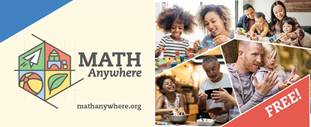 About Math Anywhere!: Established in 2017, Math Anywhere! is a community-based project in Washington which aims to build positive math experiences outside of school. We think:
math can be playful
interesting math-y ideas to explore exist all around us, wherever we go
anytime is a good time to chat about math
everyone has important math thinking to share
 
Math Anywhere has been working to create place-based media and visiting with children and their grown-ups in different community spaces to share our ideas. This training series will broaden how you think about math and inspire you to play with math in the places you visit every day.  www.mathanywhere.org 
 
Training Series Dates:  Register for some or all (Session 1 required for Sessions 2-4)
June 4th – Session 1: Math Anywhere! Invite Math Play into Every Day
June 11th- Session 2: How Many? Noticing and Talking about Quantity
June 18th– Find Shapes: Exploring Geometry in our Landscape
June 25th– Same or Different? Yes!


All sessions will be held from 9-11am.
Intended Audience: Early Learning Professionals (Librarians, Home Visitors, Child Care Providers, etc), Parents, and anyone who is interested in having fun with children!
Follow-up sessions on Mathemetizing Spaces: August 27, October 15, Nov 19- designed for folks who complete or have completed the above Math Anywhere sessions
Instructor: Molly Daley, Math Coordinator at ESD 112
Sponsored By: Snohomish County Early Learning Coalition
Funded By: Washington STEM
Questions? Contact Kendall Appell at kendall.appell@childstrive.org