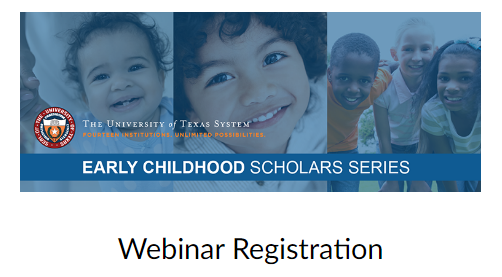 UT System Early Childhood Scholars Series
Description: The 14 institution University of Texas System Early Childhood Scholar Series is a unique opportunity to access current research from some of the nation's leading scholars studying the prenatal to age 8 developmental period.
Please join us for the kick-off webinar hosted by The University of Texas at Austin – "Getting Off to a Healthy Start: Science and Policy to Guide Early Childhood Development" – with Dr. Frances Champagne (College of Liberal Arts) and Dr. Cynthia Osborne (LBJ School of Public Affairs). Childhood experiences can have a lasting impact on physical and mental health. Dr. Champagne will discuss the epigenetic link between experiences and development that promote risk or resilience to stress, and Dr. Osborne will discuss what the evidence shows to be the most effective policies and strategies that create the conditions that our youngest children need to thrive.
Frances Champagne, Ph.D. is a Professor of Psychology at The University of Texas at Austin College of Liberal Arts and an adjunct associate professor at Columbia University. She is known for her research in the fields of molecular neuroscience, maternal behavior, and epigenetics. She won the NIH Director's New Innovator Award in 2007 and the Frank A. Beach Young Investigator Award in Behavioral Neuroendocrinology in 2009.
Cynthia Osborne, Ph.D. is the Founder and Director of the Child and Family Research Partnership and leads its national Prenatal-to-3 Policy Impact Center at The University of Texas at Austin LBJ School of Public Affairs. She is also Associate Dean of the LBJ School and an appointed member of the National Academies of Sciences, Engineering, and Mathematics Committee to Reduce Child Poverty by Half in Ten Years.
Time: Dec 16, 2020 01:00 PM in Central Time (US and Canada)