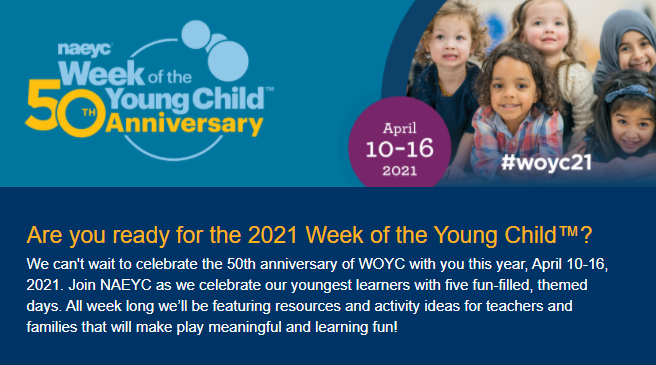 NAEYC invites you to celebrate and shine a spotlight on your classroom, advocacy, and family engagement activities via our social channels. We look forward to seeing all the creative ways you find to engage young children and their families with hands-on, collaborative activities encouraging movement and healthy lifestyles through music, food, and art.
Start planning your week around our daily classroom celebration themes. Or create your own!
And discover resources and Step It Up (SIU) ideas to use in your planning. The important thing is that we're celebrating the potential of ALL young children to learn, grow and thrive!
Share your ideas with us on NAEYC's Facebook WOYC event pages or other social media sites using #WOYC21 or email us at woyc@naeyc.org.
---
Sign up for WOYC™ email updates! We'll send you a few reminders leading up to the event and daily recaps the week of highlighting some of our favorite activities we saw on social media.
---
Saturday Kick-Off, April 10
Stay tuned for information on NAEYC's kick-off event as well as tips and resources for planning your own.
Music Monday, April 11
Through music, children develop math, language, and literacy skills—All while having fun and being active!
Tasty Tuesday, April 12
Cooking together connects math with literacy skills, science, and more while encouraging healthy nutrition and fitness habits at home and in the classroom.
Work Together Wednesday, April 13
When children build together they explore math and science concepts and develop their social and early literacy skills.
Artsy Thursday, April 14
Children develop creativity, social skills and fine motor skills with open-ended art projects where they can make choices, use their imaginations, and create with their hands.
Family Friday, April 15
Engaging and celebrating families is at the heart of supporting our youngest learners. NAEYC applauds family members' role as young children's first and most important teachers.
By participating in this event and posting video and/or photos, you are representing that you have written permission from each person in the video and/or photos, and if a child, written permission from the child's parent or legal guardian, to post the video and/or photos and use the likeness of such person therein. By posting the video and/or photos, you grant NAEYC the right to use the video and/or photo and/or any portion thereof in any manner it so chooses, including, without limitation, posting or sharing the video on NAEYC's website, Facebook page or Twitter account.