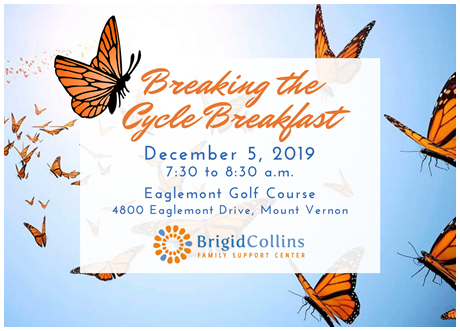 Please join us at Brigid Collins Family Support Center's annual "Breaking the Cycle Breakfast", an enlightening and heartfelt benefit to raise money to provide vital response services to children who have experienced abuse. Bring a friend, family member, colleague or neighbor to support the end of child abuse and learn about how our collaborative efforts are building a nurturing, safe community in Skagit County.
This year we will be featuring special guest speaker, Margaret Hoelzer, an Olympian medalist, spokesperson for the National Children's Advocacy Center and survivor featured in Stewards of Children child sexual abuse prevention training. Additionally, we are honored to award Rick VanderGriend, Detective for Mount Vernon Police Department and local champion for victim rights, the 2019 Children's Advocacy Center Community Leadership Award.

Register to attend the "Breaking the Cycle Breakfast" today to support the hope, healing and justice of children who have experienced abuse. All contributions will benefit the Children's Advocacy Center of Skagit County.
The program will begin promptly at 7:30 A.M. and conclude by 8:30 A.M – doors and breakfast buffet will open at 7:15 A.M. There is complimentary parking and the event is free to attend!

If you have questions or would like to reserve a table for eight, please contact Lisa Bates at lbates@brigidcollins.org or call (360) 734-4616.
Can't attend but would like to show your support? Make a donation in lieu of attendance by clicking here. All proceeds benefit the children and families served at the Children's Advocacy Center.