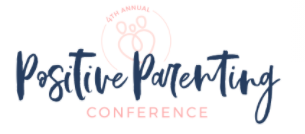 It's time for the 2020 Positive Parenting Conference that is held for FREE!
Perhaps you are stuck inside with your kids all day, working and/or homeschooling at the same time while trying to be a sane person but maybe just a little bit going crazy — thus losing it with your little one more often than you'd like. Anyone…?
Perhaps you are nestling in with your little one, enjoying this unexpectedly unrushed time together, and you're curious about positive parenting or well on your way.
Wherever you're at, you could use:
practical ideas for calm, kind and firm interactions with your kids
support for raising happy, well-adjusted adults
encouragement in being the parent you want to be (and usually are)
connection with other parents doing this, too
Yes? Then sign up here.

The Positive Parenting Conference is my favorite online summit. It is top-notch, it is practical, it is FREE, and it just keeps getting better.
This year's 16 speakers are big-name authors like
Dr. Shefali Tsabary (maybe you saw her on Oprah)
Dr. Laura Markham (perennially popular)
Dr. Tina Bryson (all the brain science you need)
Dr. Lawrence Cohen (play therapist–so good for kids right now)
… and many more.
Here's how these online summits work:
1. You sign up now, so you don't forget.
2. You get an email from our host, my friend Sumitha of AFineParent.com, when each talk is available (Sept. 22 – 29).
3. And then you sit back and watch the videos from home, wearing — well, if you're like me lately, the clothes you wore yesterday, conveniently located on the floor beside your bed.
You don't even have to take notes on the many nuggets of gold in these talks. That's because you get an eBook with takeaways from every talk. Also free. And you get it as soon as you register.
Plus you'll be invited to a Facebook community to connect with the thousands of other parents participating in this year's conference.
See? Sumitha just keeps making it better.
So, the only remaining question is which talks you want to catch for sure. Here's the full list of all the masterclasses included (yes, for FREE):
September 22-23 / Track #1 : Connection Based Parenting
Dr. Shefali Tsabary: Conscious Parenting
Dr. Laura Markham: Peaceful Parenting
Dr. Tina Bryson: Power of Showing Up
Hal Runkel: Screamfree Parenting
Bonus: 3 Quick Win Tips
September 24-25 / Track #2 Managing Behavior
Judy Arnall: Positive Discipline Tools
Dr. Mona Delahooke: Understanding Behaviors
Betsy Brown Braun: Brat-proofing Kids
Dayna Abraham: Kids Activities & Games
Bonus: 4 Quick Win Tips
September 26-27 / Track #3: Healing and Happiness
Dr. Rick Hanson: Hardwiring Happiness
Dr. Lawrence Cohen: Playful Parenting
Mark Wolynn: Inherited Family Trauma
Casey O'Roarty: Managing Our Emotions
Bonus: 3 Quick Win Tipsce
September 28-29th / Track #4: Path to Success
Greg McKeown: Essentialism
Dr. Peg Dawson: Executive Skills
Dr. William Stixrud: Self-Driven Child
Dr. Kathy Koch: Multiple Intelligences
Bonus: 3 Quick Win Tips